Miroslaw Balka with Joseph Rykwert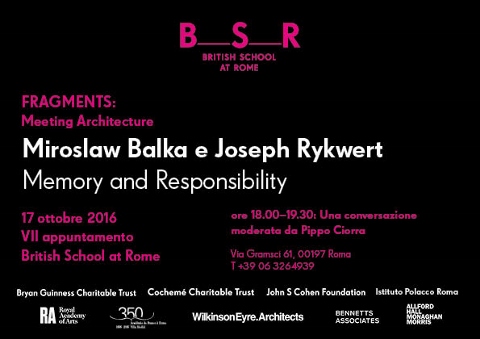 Informazioni Evento
Luogo

Via Antonio Gramsci 61, Roma, Italia
Date

Il
Vernissage

17/10/2016

ore 18,30
Artisti
Generi

incontro - conferenza
Incontro con Miroslaw Balka
Comunicato stampa
FRAGMENTS
Meeting Architecture III
A programme of lectures and exhibitions
Monday 17 October 2016: Part VII
Miroslaw Balka with Joseph Rykwert
Memory and Responsibility
A conversation chaired by Pippo Ciorra
Monday 17 October 2016 18.30-19.30
The British School at Rome
via Gramsci 61, Roma
Memory and Responsibility[1] closes Miroslaw Balka's exhibition at the BSR and is the seventh event in Meeting Architecture: FRAGMENTS curated by Marina Engel.
I make my place in space when I smell, touch, see it around me. That experience of location through the senses makes my sense of place, but inevitably summons memories. So there can be no place without memory evoked and experienced through the senses - sometimes pleasurable but as often painful. It reaches back to my own past, but the past also of my forebears, my friends and enemies making a tissue which clings to things, to fragments which memory reconstructs and through which it lives anew. It is the condition which assures my place in the world, my place among the fragments which constitute it as my place. [Joseph Rykwert]
Otwock, near Warsaw, from which Rykwert fled upon the German invasion of Poland in 1939 and where Balka grew up under Communism in the 1960's, is the starting point of the discussion between the artist and architectural historian. Otwock was a well known health resort before World War II and was inhabited by a large Jewish population. It was also the home of Rykwert's family holiday house. By the end of the Nazi occupation, not a single Jewish family remained. Twelve to fifteen thousand Jews were dispatched to the Treblinka death camp. Balka and Rykwert will then focus on Balka's show Emplacement at the BSR and discuss the responsibility of modernism in World War II in the wider context of architecture and ideology.
BIOGRAPHY
Mirosław Balka, one of Poland's most prominent artists, was born in 1958 in Warsaw, Poland. A sculptor, Balka is also active in the field of experimental video and drawing. In 1985 he graduated from the Academy of Fine Arts in Warsaw where he has run the Studio of Spatial Activities at Department of Media since 2011. Recent solo exhibitions include Fragment, National Centre For Contemporary Art, Moscow; Nachtgesichten, WRO Art Center, Wroclaw (2013); Akademie der Künste, Berlin, and CCA Warsaw; Between Honey & Ashes, Douglas Hyde Gallery, Dublin (2011); Museo Reina Sofia, Madrid (2010); Modern Art Oxford, Oxford and Tate Modern, London (2009); Museum of Contemporary Art, Rijeka, and Irish Museum of Modern Art, Dublin (2007).
His works have been exhibited in numerous international shows such as Documenta, Kassel (1992), Venice Biennale (1990, 1993, 2003, 2005, 2013), The Carnegie International, Pittsburgh (1995), São Paulo Biennale (1998), Liverpool Biennial (1999), Sydney Biennale (1992, 2006), Santa Fe Biennial (2006). He is the author of the memorial to the victims of the Estonia Ferry disaster in Stockholm (1997). In 2009 he presented a special project How It Is in the Unilever Series, Turbine Hall, Tate Modern, London.
Joseph Rykwert is Paul Philippe Cret Professor Emeritus of Architecture at the University of Pennsylvania. He was born in Warsaw in 1926 and emigrated to England in 1939. He became Librarian and Tutor at the Royal College of Art, London in 1962. In 1967 he was made Professor of Art at the newly-created University of Essex where he remained until 1981 when he was first Slade Professor in the Fine Arts at the University of Cambridge and then Reader in Architecture. He took up his appointment in Philadelphia in 1988.
Rykwert has lectured or taught at most major schools of architecture and has held visiting appointments in Princeton, the Cooper Union, New York, Harvard Graduate School of Design, the University of Sydney, Louvain, the Institut d'Urbanisme, Paris, the Central European University and others. He has held fellowships at the Center for Advanced Studies in the Visual Arts, Washington and the Getty Center for the History of Art and the Humanities. His publications include: The Idea of a Town (1963), On Adam's House in Paradise (1972), The First Moderns (1980), The Necessity of Artifice (1982), The Brothers Adam (1984), a new translation of Alberti's architecture treatise On the Art of Building in Ten Books (1989, with Robert Tavernor and Neil Leach), The Dancing Column (1996), The Seduction of Place (2000) and The Judicious Eye (2007) which have been translated into several languages.
In 1984 he was appointed Chevalier dans l'Ordre des Arts et des Lettres, and a Commander of the British Empire Order in 2014. He holds several honorary degrees and is a member of the Accademia di San Luca, the Polish Academy and the Academia Europea.
FOR FURTHER INFORMATION
The British School at Rome
via Gramsci 61, Rome
telephone +39 06 3264939
www.bsr.ac.uk
PRESS OFFICE MEETING ARCHITECTURE
Ludovica Solari | [email protected] | +39 335 577 17 37
Lucia Bosso | [email protected] | +39 338 322 63 79
In collaboration with
The French Academy in Rome, Istituto Polacco Roma
With the support of
Allford Hall Monaghan Morris, Bennetts Associates, Bryan Guinness Charitable Trust, Cochemé Charitable Trust, John S. Cohen Foundation, Wilkinson Eyre