Marina Abramović – The Kitchen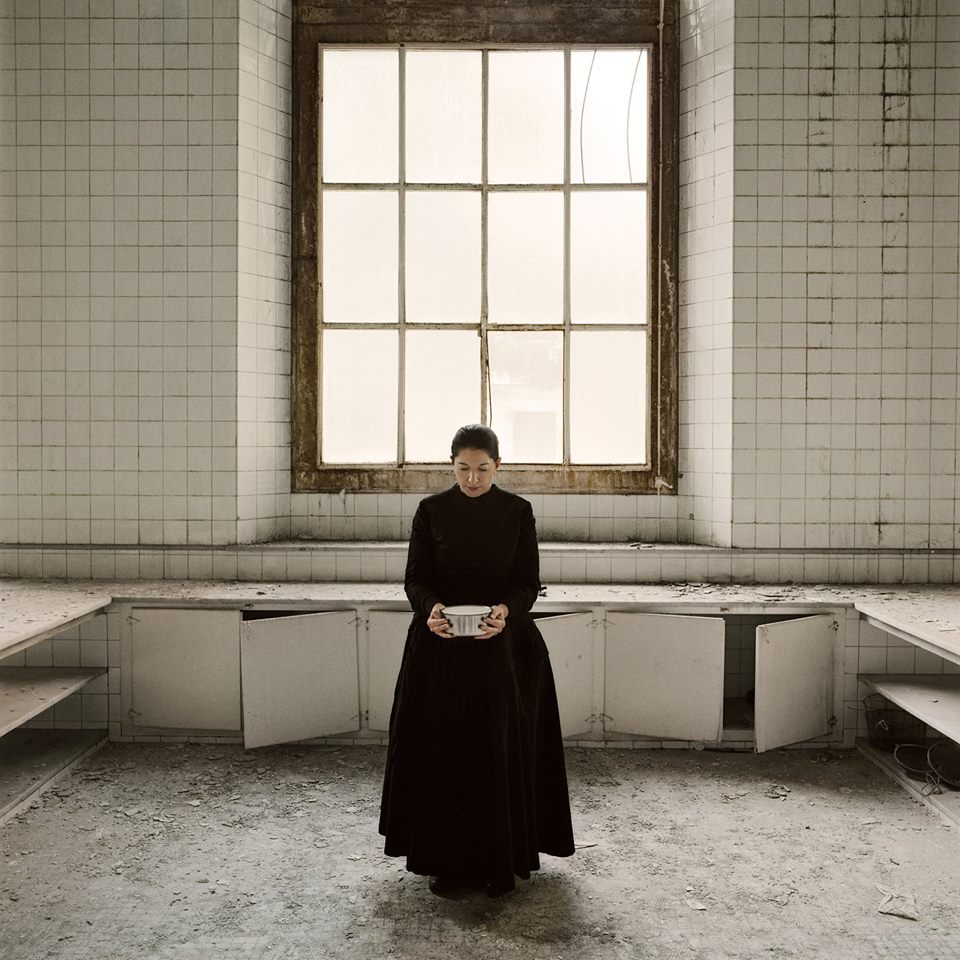 Informazioni Evento
Luogo

Bauer Palladio Hotel & Spa Fondamenta Zitelle, 30133, Venezia, Italia
Date

Dal al

su appuntamento
Vernissage

13/05/2017

ore 18
Artisti
Generi

arte contemporanea, personale
Mostra personale
Comunicato stampa
Zuecca Project Space, in collaboration with Lisson Gallery, presents a solo exhibition of work by leading international artist Marina Abramović timed to coincide with the opening of the 57th International Art Exhibition – la Biennale di Venezia.
The works on display in Venice feature videos and photographs from the artist's The Kitchen series, all of which were performed, filmed and photographed in an abandoned kitchen in the former nunnery La Laboral in Gijón, Spain. Now a sprawling arts complex, the convent fed more than 8000 orphans when active and strongly resonates with the history of Zuecca Project Space, which is housed within La Zitelle, a sixteenth century Venetian monastery that provided shelter and education to young orphaned girls, who would build their dowries by working in the Zuecca Room.
The exhibition includes three single screen installations, all from 2009: The Levitation of Saint Theresa, Holding the Milk and Vanitas. The films record simple actions by the artist, facing the camera and barely moving, like a tableau vivant. In The Kitchen I: Levitation of Saint Theresa, viewers watch as Abramović levitates in air, a symbolic cross between Christ's crucifixion and his ascension, until her body inevitably tenses and she begins to shake. The truth of the body is similarly weaved into The Kitchen V: Holding the Milk, where the artist is shown holding a pot of milk until her muscles refuse to be quieted, the milk spills and the sounds of splashing interrupt the visual spell. The Kitchen VI: Vanitas shows Abramović's hands outstretched behind a ceramic human skull, either as an offering or a miraculous reveal, until her hands start to flutter, calling to mind the movement of angelic wings.
The videos are presented alongside a range of photographs from the series. While some reference the paintings of Caravaggio or Zurbarán, all of them include portraits of Abramović, clad in black, cooking, meditating or levitating in the same kitchen as the films.
About Marina Abramović
Since the beginning of her career in Belgrade during the early 1970s, Marina Abramović has pioneered the use of performance as a visual art form. The body has always been both her subject and medium. Exploring the physical and mental limits of her being, she has withstood pain, exhaustion, and danger in the quest for emotional and spiritual transformation. This particular blend of epic struggle and self-inflicted violence was borne out of the contradictions of her childhood: both parents were high-ranking officials in the socialist government, while her grandmother, with whom she had lived, was devoutly Serbian Orthodox. Though personal in origin, the explosive force of Abramović's art spoke to a generation in Yugoslavia undergoing the tightening control of communist rule.
About Zuecca Project Space
Zuecca Project Space was established in 2011 on the initiative of Alessandro Possati. Its mission is to develop contemporary art projects dedicated to interdisciplinary research and dialogue. This is achieved through the collaboration of local and international institutions, by reactivating and recovering spaces towards cultural initiatives.
About Lisson Gallery
Lisson Gallery is one of the most influential and longest-running international contemporary art galleries in the world. Established in 1967 by Nicholas Logsdail, it pioneered the early careers of important Minimal and Conceptual artists, such as Art & Language, Carl Andre, Daniel Buren, Donald Judd, John Latham, Sol LeWitt, Richard Long and Robert Ryman among many others. In its second decade it introduced significant British artists, including Tony Cragg, Richard Deacon, Anish Kapoor, Shirazeh Houshiary, John Latham and Julian Opie. Today it continues to support a younger generation of artists led by Cory Arcangel, Nathalie Djurberg & Hans Berg, Ryan Gander, Haroon Mirza and many more. Across two exhibition spaces in London, two in New York and one in Milan, the gallery supports and develops 52 international artists.