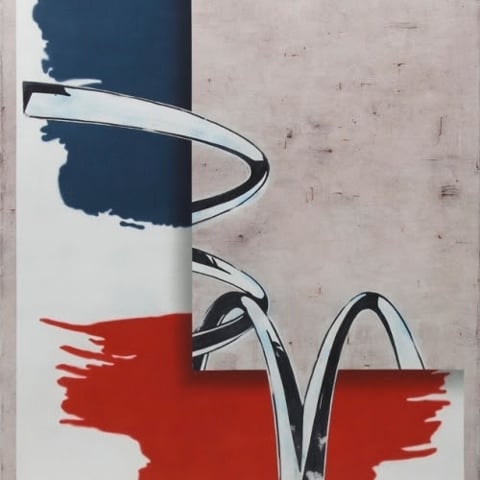 Informazioni Evento
Luogo

Via Carlo Farini 32, Milano, Italia
Date

Dal al

July 1-2: 11:00-13:00 | 14:30-19:00
July: from Mon. to Fri. 12:30-19:30
Sept.: from Tue. to Sat. 11:00-13:00 | 14:30-19:00
Vernissage

30/06/2016

ore 19
Artisti
Curatori
Generi

arte contemporanea, collettiva
Mostra collettiva.
Comunicato stampa
Life Eraser
Cornelia Baltes / Rachel de Joode / Jennie Jieun Lee / Anne Neukamp / Ruth Root / Shinique Smith
Curated by Domenico de Chirico
JUNE 30 | SEPTEMBER 10, 2016
Opening June 30, 2016 from 7-9 pm
Brand New Gallery is pleased to announce a group exhibition titled 'Life Eraser' curated by Domenico de Chirico featuring works by Cornelia Baltes, Rachel De Joode, Jennie Jieun Lee, Anne Neukamp and Ruth Root.
The theory concerning the Manipulation of Corporeality is strictly connected to historical and social changes that include a metamorphosis of aesthetic and verbal codes as a starting point for a deeper investigation about the subject. Corporeality affirms itself as a research field for every kind of transformation.
In the Nineties, thanks to research in new technologies, we observed a long process in which the body was remoulded. These new body shapes were connected to developments in biotechnology and bio-politics. In the process we also attended to a modification and a loss of human values.
The self-perception of one's body acquired a new refined and "digital" outlook. This new altered sensitivity is a new kind of aesthetic perception of contemporary change.
We are still in the process of shaping the dynamics of our identity. The conjunction between the lived-in body and the represented body will allow us to metaphorically define the contemporary body redesigned by genetic engineering.
Domenico de Chirico
Cornelia Baltes
(b. 1978, Mönchengladbach, DE) lives and works in London and Berlin.
In Cornelia Baltes' works, simplified figurative signifiers are clues and red herrings which, in tandem with her titles, serve equally to allude and elude. They thrive in their own immediacy whilst achieving ambiguity. Contrasts and compositions found in life are exaggerated making the banal strange, empowered by an unfathomable logic. The formalist power of her art comes to the fore in her installations, in which individual works communicate with one another through colours and motifs that migrate from piece to piece.
Recent solo exhibitions: Drunk Octopus wants to fight, Limoncello (London, 2016); Gone Fishing (with Jean-Phillipe Dordolo), Centrum (Berlin, 2016); Tiny Dancer, Kunstverein Ulm (Ulm, 2015); Turner, Northern Gallery for Contemporary Art (Sunderland, 2015); There is a light and whistle for attracting attention, DREI (Cologne, 2015). Recent group exhibitions: Women's Art Society II, MOSTYN (Wales, 2015); Oh, of course, you were berry picking, DREI (Cologne, 2015); Off the Wall, Kunsthalle Nuremberg (Nuremberg, 2014); Nur was nicht ist ist möglich - Malerei im Raum, Museum Folkwang (Essen, 2013).
Rachel De Joode
(b. 1979, Amersfoort, NL) lives and works in Amersfoort and Berlin.
Rachel De Joode is interested in Zwischendinge, a between of things, which for example includes the question of how one thing causes or effects another. Connections such as between her skin and the clay she moulds, between the object and its photographic representation, the organic and the artificial or the revealed and the concealed. She argues that all of these 'Things' and their 'Betweens' have equal agency. The point of engagement between us and things are at their surfaces: what is visible. De Joode interrogates materials traditionally associated with sculpture, investigating the inherent aura of the materiality she handles with deliberate naiveté, playing with their existential qualities, which she then abstracts.
Recent solo exhibitions: Connective Tissue, Cinnnamon (Rotterdam, 2015); Metabolism, MACRO (Rome, 2015); Porosity, Christophe Gaillard (Paris, 2015); Surfaces, Neumeister Bar-Am (Berlin, 2015); Soft Inquiry, Kansas Gallery (New York, 2015). Recent group exhibitions: Hybrid Modus. New positions in bio-, living- and digital scultpure, Sculptuur Bredelar (Bredelar, 2016); Un certain regard, Dürst Britt & Mayhew (Den Haag, 2016); Touch-tone, Martos Gallery (New York, 2015); Deep Screen, Parc Saint Léger centre d'art contemporain (Pougues-les-Eaux, 2015); COOL - as a state of mind, MAMO (Marseille, 2015); Objects in a Room, Kunsthaus Bethanien (Berlin, 2014); Group Show, Elaine Levy Project (Brussels, 2014); The New Beauty of Our Modern Life, Higher Pictures (New York, 2014).
Jennie Jieun Lee
(b. 1973, Seoul, KR) lives and works in Brooklyn.
Jennie Jieun Lee prefers creativity and experimentation to precision. Her work, experimenting with color and thoughts, conveys moodiness and urgency. The artist allows for the ceramics to break and the paint to drip, as she believes that the ceramics will be here far longer than we will. Since ceramics are not biodegradable, the artist believes that if her pieces are found in the future, people will relate to the faces of her masks, since, like agony and beauty they also convey emotions that are timeless. She refers to all of them as "glaze moods". These colorful surfaces articulate and mimic artist's emotional, psychological and physical spaces and help to transcend the beauty and agony of different moments.
Recent solo exhibitions: Graham Collins and Jennie Jieun Lee, Malborough Chelsea (New York, 2016); Immigrant's Ear, Levy Delval (Brussels, 2016); Jennie Jieun Lee & Mariah Robertson, Eleven Rivington (New York, 2016); Mrs. Thompson's Mirror, Martos Gallery (New York, 2015); Am I Ugly, Cooper Cole (Toronto, 2015); Jennie Jieun Lee & Patrick Brennan, Halsey McKay Gallery (East Hampton 2015). Recent group exhibitions: When the Sun Hits, The Pit (Los Angeles; 2015); Object Painting - Painting Object, Jonathan Viner Gallery (London, 2015); The Negative Hand, Anonymous Gallery (Mexico City; 2015); Media, Jacob Bjorn Gallery (Arhus, 2015).
Anne Neukamp
(b. 1976, Düsseldorf, DE) lives and works in Berlin.
Anne Neukamp continues to destabilise the viewer's perception by creating unusual situations which are stretched between reality and illusion. She introduces a new expression with which she tries to encourage the viewer to reconstruct forms and images, "non-materialized found objects" into a palpable new form. The surface of Anne Neukamp's work implies a journey in time and space, dense with metaphors that speak to the individual's attempt to find a way out of the mundane accumulation of forms, images and objects. For Anne Neukamp this is an attempt to create a space for a new reflection on the experience, existence and transience of the medium of painting.
Recent solo exhibitions: Galerie Valentin (Paris, 2016); Rollladen 2016, Ludlow 38 (New York, 2016); Anne Neukamp: Faux Amis, Galerija Greor Podnar (Berlin, 2015); Anne Neukamp and Zachary Leener, Lisa Cooley Gallery (New York, 2015); Circuit, Oldenburger Kunstverein (Oldenburg, 2013). Recent group exhibitions: 13e Biennale de Lyon: Collection N°5 (Lyon, 2015); ICSP International Studio & Curatorial Program (New York, 2015); L'oiseau présente - Be abstract, Kunstverein Schwäbisch Hall (Schwäbisch Hall, 2015); ARCADIA UNBOUND, Funkhaus Berlin Nalepastrasse (Berlin, 2015); Jo Baer, Anne Neukamp and Diane Simpson, Mitchell-Innes & Nash (New York, 2014); Pale Fire, LeRoy Neiman Gallery, Columbia University School of the Arts (New York, 2014).
Ruth Root
(b. 1967, Chicago, IL) lives and works in New York.
Ruth Root's practice centers on an intensive investigation of color, material, form, and support. For more than two decades, she has worked within the language of abstract painting, exploring the physical and illusory boundary of wall and object, foreground and background, even inventing her own color wheel to challenge canonized color theory. Her latest works demonstrate her experimentations with new materials and fabrication methods as she combines hand-painted Plexiglas with colorful fabric patterns she designs digitally.
Recent solo exhibitions: Shapeshifters, Luhring Augustine (New York, 2016); Ruth Root, Galerìa Marta Cervera (Madrid, 2016); Oid, Odd & Oval, The Aldrich Contemporary Art Museum (Ridgefield, 2015); Ruth Root, Andrew Kreps, (New York, 2015). A solo show at Mission Road (Los Angeles) is scheduled in 2017. Recent group exhibitions: Looking Back/The 10th White Columns Annual, White Columns (New York 2016); New York Painting, Kunstmuseum Bonn (Bonn, 2015); To the Venetians II: Chris Martin, Matt Rich and Ruth Root, RISD Painting Dep. (Providence, 2012).
Shinique Smith
(b. 1971, Baltimore, MD) lives and works in Brooklyn.
Her work is inspired by the vast nature of 'things' that we consume and discard, which resonate on a personal and social scale. The Graffiti of her youth, Japanese calligraphy, and Abstraction are influences from which she extracts "the graceful and spiritual qualities in written word and the everyday."
Recent solo exhibitions: Spectrums, David Castillo Gallery (Miami, 2016); Project Atrium: Shinique Smith, MOCA Jacksonville (Jacksonville, 2016); Shinique Smith: Wonder Rainbows, The Frist Center for the Visual Arts (Nashville, 2015); Threaded, Center for the Arts in Virginia (Virginia Tech, 2015); Shinique Smith: Bright Matters, Museum of Fine Arts (Boston, 2014). Recent group exhibitions: Busan Biennale 2016 (Busan, 2016); Decade by Decade: Art Acquired in Its Time, Weatherspoon Art Museum The University of North Carolina (Greensboro, 2016); TIPERMANENCIA: Mutable Art in a Material Society, XIII Bienal de Cuenca (Cuenca, 2016); Mal Maison, Maccarone (New York, 2016); Modern Heroics, Newark Museum (Newark, 2016); 30 Americans, Cincinnati Art Museum (Cincinnati, 2016); Half the World: Abstract Sculpture by Women, 1947-2016, Hauser, Wirth & Schimmel (Los Angeles, 2016); NO MAN'S LAND, Women Artists from the Rubell Family Collection, Rubell Family Collection (Miami, 2015); Showing Off: Recent Modern & Contemporary Acquisitions, Denver Art Museum (Denver, 2015).