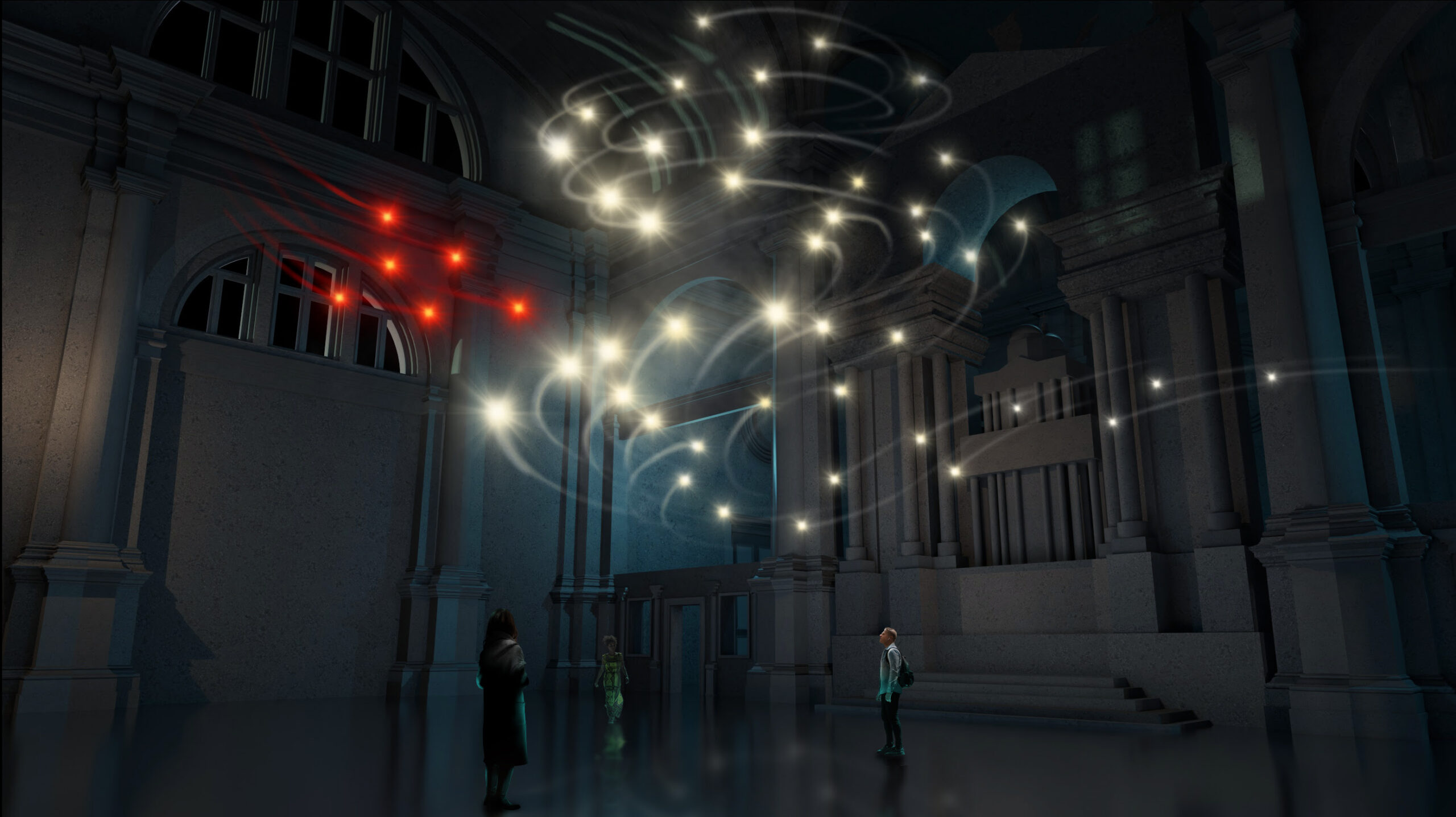 Informazioni Evento
Luogo

Campo San Lorenzo, 30122, Venezia, Italia
Date

Dal al

April 20 – May 1, nightly from 9 PM to 11 PM
Multiple nightly shows, running every 30 minutes
To book a show please visit aorist.art
Vernissage

20/04/2022
Generi

serata - evento
Aorist annuncia CodeX in Venice.
Comunicato stampa
Aorist, a next-generation cultural institution supporting artists creating at the cutting edge of art and technology, announces their Venice program titled CodeX, on view from April 19 to May 8, 2022, coinciding with the 59th Biennale di Venezia. New commissions include an immersive installation by Rafaël Rozendaal in the Annex of the Navy Officer's Club at the Venice Meeting Point; the first-ever indoor drone performance by DRIFT hosted at TBA21–Academy's Ocean Space; and an exhibition of Jonas Lund's participatory series MVP (Most Valuable Painting) at Mvp.Art.
Aorist's presentation in Venice reflects on the invisible systems that govern our ever-changing, uncertain world, as well as the inputs and feedback loops that incentivize certain behaviors and cultural values. Named CodeX, the Venice projects display the work of artists that render unseen forces visible, inviting viewers to rethink patterns and coefficients one might inadvertently disregard as mere abstractions, to understand how they could be influencing ways of living and connecting with our surroundings.
Rafaël Rozendaal's installation Observation utilizes mirrors and screens to transform an intimate space into an infinite, fully immersive digital world. Encouraging visitors to slow down, the work requires a practice of close looking to reveal hidden patterns and complex forms emerging from the interplay of simple elements such as color, shadow, constraint, and flow. A 'Post-Internet' pioneer, Rozendaal has been creating artworks in the form of websites since 1999. Reflecting on his new commission with Aorist, the artist comments, "Observation is a series of compositional experiments that play with the idea of colors pushing each other. It's almost like the colors have a weight or physical presence and are fighting for the space they occupy - moving in sync, like traffic in a dense city."
DRIFT will stage their first-ever indoor aerial drone performance titled Social Sacrifice. Exploring the swarming dynamics exhibited by a school of fish encountering a predator, the work highlights the tensions that emerge between collective action and individual freedom, as well as how these change in the presence of external threats.
As part of their ongoing commitment to sustainability, Aorist partners with TBA21–Academy's Ocean Space – a Venice-based cultural center for catalyzing ocean literacy, research, and advocacy through the arts – to bring this new commission by DRIFT to life in the Church of San Lorenzo. The flying school of A.I. fish will 'swim' overhead every night from 9 PM to 11 PM (CET), April 20 to May 1.
Meanwhile, Jonas Lund explores how systems of value play out in the context of artmaking and art valuation in MVP (Most Valuable Painting), an online participatory project in which 512 individual digital paintings change and evolve, optimizing themselves to become more desirable based on audience engagement data and sales. Following a preview of MVP at W1 Curates in London from April 4 to 17, a physical manifestation of the work will be on display at Lightbox's Venice Meeting Point.
Collectively, these commissioned works highlight the human, environmental, and technological systems that shape our world and ask us to consider what kinds of practices and cultural values they instill. Each of the works on view is accompanied by a series of NFTs available on the Aorist marketplace. The NFTs produced alongside DRIFT's Social Sacrifice are created in collaboration with digital art pioneer and musician Don Diablo, with a percentage of sales donated to TBA21–Academy.
Pablo Rodriguez-Fraile, Founder and Chairman of Aorist, comments, "At Aorist, we eagerly champion pioneering artists and creators, placing quality and cutting-edge content at the center of all our endeavors. The Venice Biennale is known as a leading stage for contemporary art, and we wanted to use this pivotal moment to commission and exhibit thought-provoking and groundbreaking art, working with leading voices in the field. Our projects allow us to utilize blockchain technologies to push artistic practice and amplify the creative process."
Aorist's Co-Founder, Ximena Caminos continues, "CodeX questions the nature and existence of control, the ubiquitous notion of Free Will and the limits of our perception. Demanding a deeper connection with the underlying mathematical codes driving natural law, the works reveal the primeval background from which all other more institutional forms of life are fashioned. Realizing how deeply intertwined they are, we might even end up reconciling our perceived personal uniquenesses and freedoms, with the collective and systemic dependence and responsibility on which they are rooted. Who knows? A highly sophisticated city like Venice, that is at the same time so pressingly threatened by environmental degradation, might even prove to be - in the end - the ideal setting for all this to actually happen."
Aorist will be donating a percentage of any sales revenues to a selected charity promoting climate advocacy in Venice.
Events and Other Activities
Talks: Aorist will co-host talks with artists Rafaël Rozendaal and DRIFT in partnership with Unfinished Camp, a global platform that links the ethical technology and visual arts communities closer together, who will host a series at this year's Venice Meeting Point.
Secular Sabbath: In honor of Earth Day, Aorist will host Taste of Secular Sabbath with musician RHYE and Geneviève Medow-Jenkins and Tea Ceremony with Mia Maestro. April 21, Private Location, by invitation only.
Dineo Seshee Bopape: Extending their partnership with TBA21–Academy, Aorist will co-produce an AR work by artist Dineo Seshee Bopape that will be part of the artist's exhibition at TBA21–Academy's Ocean Space during the Biennale.
Notes to Editors
DRIFT, Social Sacrifice
Location: TBA21–Academy's Ocean Space
Campo S. Lorenzo, 5069, 30122
Date: April 20 – May 1, nightly from 9 PM to 11 PM
Multiple nightly shows, running every 30 minutes
To book a show please visit aorist.art
Rafaël Rozendaal, Observations
Location: Navy Officer's Club - Venice Meeting Point
Calle Seconda de la Fava, 2168, 30122
Opening: April 19 – May 3, 10 AM – 7 PM
Closed on Mondays
Jonas Lund, MVP
Location: Mvp.Art and in the Tavern at the Venice Meeting Point
Press Preview
Aorist will host a press breakfast at The Venice Meeting Point
April 20, 9:30 AM
Location: Navy Officer's Club - Venice Meeting Point
Calle Seconda de la Fava, 2168, 30122
aorist.art
Instagram / Facebook / Twitter
#aoristart #aorist
About Aorist
Aorist is a next-generation cultural institution bridging the digital and physical domains while supporting a climate-forward NFT platform for artists creating at the edge of art and technology.
Through cross-disciplinary cultural programs, artist commissions, immersive installations, and global partnerships, Aorist provides a platform for artists, collectors, and enthusiasts to explore and appreciate cutting-edge art.
Aorist Leverages web3 technology to offer advanced tools for artists to push the limits of their creative practice while protecting principles of ownership, authenticity, and social capital. Powered by Algorand, the first Pure Proof of Stake Blockchain, and partnering with ClimateTrade to offset carbon emissions, Aorist minimizes environmental impact while promoting blockchain sustainability.
Aorist is founded by Pablo Rodriguez-Fraile, a trailblazer, patron, and innovator in the NFT ecosystem; creative place-maker, cultural strategist, and curator Ximena Caminos; and Andrea Bonaceto, an artist and entrepreneur.