Scatti #11 – Francesco Dolfo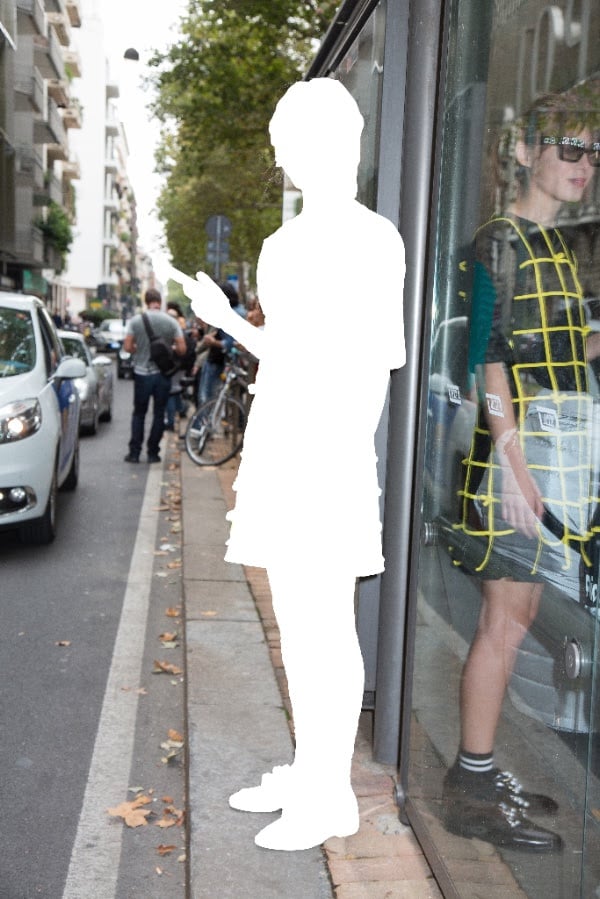 Informazioni Evento
Luogo

via privata Rezia 2, Milano, Italia
Date

Dal al
Vernissage

21/02/2018

ore 19
Artisti
Generi

fotografia, personale
Mostra personale
Comunicato stampa
Scatti #11 Francesco Dolfo
7-9 pm, Wednesday February 21st, Marsèll Paradise, Via Privata Rezia 2, Milan
20 photographers for 20 months and 1 space, Marsèll Paradise Milano.
20 exhibitions to narrate the contemporary photographic aesthetics that was born and is growing in the city.
Italian and foreign photographers living, working, engaging with and inserting themselves into Milan urban fabric.
An heterogeneous and changing photo landscape chosen by Mirko Rizzi and Federica Tattoli for Marsèll Paradise, and through a public call.
On the occasion of its eleventh step, Scatti presents the work of the Friuli-born photographer Francesco Dolfo, living in Milan since 1998. Snaps, What Remains? is a reflection on the manifold universe of people and personalities crowding the city during Milan Fashion Weeks. Francesco Dolfo takes, during Milan Fashion Weeks, portraits and beauty and streetstyle photos for different international magazines. Journalists call these pictures Snaps, snap-shots took in an extremely short time. The photographers move quickly between different spots in the city, taking pictures sometimes in very small rooms, sometimes open-air inside parks and on the streets, always among a crowd of changing and colorful people and other photographers, midst traffic and car services. The subjects to be photographed are journalists, editors, models, bloggers, millenials, aspiring influencers and the next big ones turning around fashion system. From these pictures the magazines extract the personalities and use their decontextualized images for their thematic columns. But regarding the context, the moment of reality which was caught by the picture, what does last? What survives of the photographed snapshots?
This was the consideration that generated Snaps, What Remains?. From the one hand the point was to remove the punctum, and to show what is remaining of the photograph. The void left by the protagonists on the foreground opens up the space for other narrations: there are people who got into the framing by chance, someone stares directly into the lens hoping to be published somewhere whereas someone else is just avoiding it, photographers at work just like Francesco Dolfo himself, crowds running towards other runway shows, curios people looking around; it looks like as if the real focus of the the picture would be "what is remaining".
Francesco Dolfo describes himself: I was born in Friuli during the earthquake and this is probably why I can't stand still. My grandfather, who I unfortunately know only through photographs, was a photographer that moved to Eritrea and who imparted the passion for photography to my father and uncle, so I can say that photography has always been present in my life. I always had a passion also for sports, for bicycle and kayak in particular, which I practiced competitively for 14 years. I was part of the Italian team and I won several times the kayak Italian championship. When I was 20 I moved to Padova where I studied engineering. The following year I moved to Rome to become an athlete in the Navy sport group. In 1998 I came to Mila to study at IED and at the same time I started to work in a photography studio as an assistant for Italian and international photographers and collaborating with the most important magazines. With some of the photographers I worked with, Kazunori Hataguchi and Bodha D'Erasmo in particular, the professional relationship became friendship, which led me to work with Casa Brutus, a famous Japanese design magazine, than another one focused on interior design/fashion called Gainer, than Precious Magazine, Men's Club, Spur Magazine and lately with Esquire.
My work spans from fashion to design and since 15 years I narrate with my images Italian companies' history. I shot in my studio accessories for important fashion brands, interior design items, famous designers, artisans at work, and I also collaborates with emerging fashion designers.
As W.S.Burroughs said "The most dangerous thing to do is to stand still"